Welcome to the Warriors OCs Wiki!
Hello and welcome to the Warriors OCs Wiki!
On this Wiki, we create articles about our original fan characters and write summaries about them and their lives. Additionally, we also allow users to create pages for storing information about their fan Clans, or even summaries of and information about fanfictions!
If you would like to join our Wiki, please ensure that you read our Rules before editing and contact any of the admins if you're ever in need of help.
If you'd like to quickly get in contact with the admins about a report, or simply chat with other editors, feel free to join our Discord server! It's completely safe, and moderated almost 24/7 to ensure user safety :)
Hello!
In the past couple of years, this Wiki has had a lot of users (primarily newcomers) create articles to write their fanfictions on, despite the sole purpose of this Wiki being to store information about your characters.
To clarify, here is a list of most (if not all) articles that are and aren't allowed on this Wiki. Anything not listed in either list is most likely not permitted.
What is allowed?
Character pages, for storing information about your character and summaries of their life
Clan pages, for storing information about your custom Clan
Book pages, for storing information about your fanfiction and summaries of the plot
Romance pages, for elaborating on relationships in your fanfictions
Joke character articles, to an extent
Chapter summaries, similar to the cliffnotes on the official Warriors Wiki
Canon characters from an Alternate Universe (AU), with major adjustments
What isn't allowed?
Fanfiction pages, for copy/pasting or writing fanfiction on
Advertisements (these are allowed on blog posts)
Character generators or reviewers
Roleplays
Quizzes or questionnaires (these are allowed, to an extent, on blog posts)
Canon characters, with no AU adjustments
Anything not Warriors related
If you're ever unsure whether or not a page you have in mind would be allowed on this Wiki, please get in contact with an admin.

To combat the issue of fanfiction on this Wiki, we have decided that we will be partnering with the Warriors Fanfiction Wiki.
The WFW was created for sharing and writing Warriors fanfiction, and despite this, they have been having similar problems to us concerning character pages.
After having a discussion with the staff from there, we have collectively decided to partner with them and encourage users to post their fanfictions on that Wiki as opposed to ours.
As this is still a fairly new decision, we will be continuing our discussions with the WFW staff on how to further improve our partnership.
On our Discord server, we have a representative, Storkbork, who will be speaking on behalf of the WFW and any questions concerning their Wiki or similar should be directed to her.
Similarly, Marsh and myself are acting as representatives for the WO Wiki on their Discord server, and will be answering any questions or inquiries about this Wiki over on there.

As a final reminder, please ensure that you read our rules! They have been put into place to keep this Wiki safe, organised and user-friendly, and it is important to keep them in mind when editing or interacting with other users to avoid warnings or blocks.
If you have any questions, please comment on the blog post linked at the top of this announcement or message me on my talk page and I will get back to you as soon as possible!
⠀ ⠀⠀ ⠀ ⠀ ⠀ 。・゚☆ ✧∴。 *  ゚・ 。 ☼ ・
✧・ 。 ・゚*。☆・ ✧∴⠀。⠀*。 Riix ・゚☆ ・ ★ ゚ 。✧ ゚・。☆。✧
* ・ ゚*。・゚★。 the stars can't shine without darkness ☆∴。 * ★ ゚・
⠀⠀⠀⠀⠀⠀ ✧∴。 21st January 2021 | 19:15 UTC 。∴✧
There are currently 7,702 articles on this Wiki.
There are currently 96,648 edits on this Wiki.
There are currently 4 admins on this Wiki.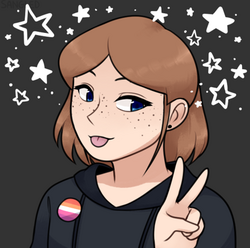 OBat406 is a hard-working contributor who's been editing since the 23rd of March 2020 and has made over 4500 total edits as of the 6th of January 2021.
She is very active, interactive and creative and has made several detailed and intricate articles during her time here.
Bluestar is is a long haired, dark blue-gray she-cat with ocean blue eyes. She has a long, bushy tail with a white paw.

She is the current leader of ShadowClan.
ShoreClan is a group of cats that live on the coastline of an ocean which they call Long Beach. It has pretty landmarks, unique traditions and an intricate history.

It is currently being lead by Salmonstar.
Community content is available under
CC-BY-SA
unless otherwise noted.