Queen
I am TheQueenOfThisShip or Queen for short. You may also call me Maegan.
Hello! As stated above, I am TheQueenOfThisShip, or Queen for short, and I'm an administrator and moderator on this Wiki. I joined the Wiki back in February of 2018 and was promoted by Marshywillow in December of the same year.
You can contact me on my Talk Page or on Discord (Queen_Of_This_Ship#7902). I am an adult and work almost every day, so I may not be able to respond. Feel free to contact Marshywillow or Seyri if I haven't responded.
About
I am known as Queen here on Fandom and other cites like Instagram and Twitter, but you may call me Maegan as that is my name.
I've been on this Wiki since 2018 and have been active since. Outside of the Wiki, I work at a hospital as a Food & Nutrition Aide and an active member over on Twitch. I have a large family (13 people, not counting cousins, aunts, uncles, all the jazz). I am now living alone with my first ever cat, Yuno.
Trivia
+ I currently have one cat. I've never had a cat as my mom is deathly allergic.
+ I go by she/he/they pronouns. I am female, but I am open to all pronouns!
+ I have a catsona, simply known as Queen (aka, myself)! I don't have any art for her, but I will post some when I create it!

Cherryfeather is a small, slender, sleek-like, middle-aged black and white she-cat with a large, deep scar on her shoulder, with piercing dark, pool blue eyes.
| Working On | Pending/On Hold | Finished |
| --- | --- | --- |
| ✗ | ↻ | ✓ |
Briarstar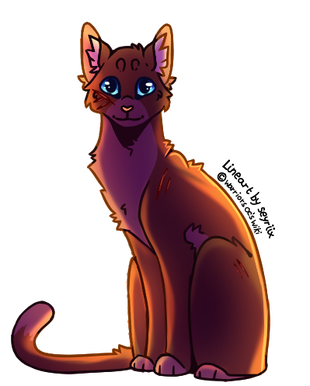 Springstar
Snowberry
baby boy baby
Coming Soon
Community content is available under
CC-BY-SA
unless otherwise noted.